Cables and Adapters
The use of adapters is not recommended. Inconstant interoperability issues can arise between consumer equipment and commercial a/v systems that may not be identified or resolved.
CTG provides certain a/v extension cables that connect with compatible a/v systems in General University classrooms.
Analog Video Cable
VGA Cable - used to connect a user-furnished laptop (where supported).
Analog Audio Cable
3.5mm Cable – used to connect a stereo analog, audio device (where supported). A standard, 3-pole, 3.5mm, male-to-male audio cable can hook up a dedicated analog audio device, or to carry presentation audio in tandem with a VGA connection from a laptop.
Network Cable
RJ45 Patch Cable – used to connect a device to the public network port that is available at the a/v enclosure in General University Classrooms.
Note: If you cannot find a cable where it is normally provided with a compatible a/v system, please contact the CTG Helpline at ext. 82222 or through the Service Desk.
HDMI; USB Cables
CTG does not provision HDMI, USB cables, or adapters. Ensuring ongoing, consistent availability and reliable performance cannot be reasonably sustained at an enterprise scale.
Presenters are encouraged to:
Provide their own known, working cables to connect their portable device, or;
Use the Solstice service to wirelessly connect their device to the a/v system: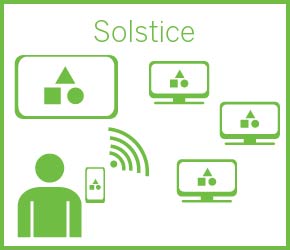 Solstice
---
Published on  and maintained in Cascade.