General Information
Before your Zoom session starts:
Make sure that you can

log in

and run the Zoom application 

Review our Securing Your Zoom Sessions information.

Make sure your Internet connection is stable (wired connection is preferred when possible)

Test

your Microphone and Speaker

Connect to only one audio source to avoid bad audio feedback
Communicate expectations and any meeting instructions in your meeting invitation, for example:

All participants will be muted during the meeting
If you have any questions or comments during the meeting, use the in-meeting chat
Presenters should speak close to the microphone so remote participants can hear

Have the content and applications prepared for sharing before the meeting

Practice before the meeting to get familiar with sharing your screen and confirm your audio and video work

Establish and follow rules for etiquette, for example:
During your Zoom session:
Make sure all participants are muted when they join the meeting and unmute participants as necessary
Mute your microphone if you are not speaking
When you have your video on, look at the camera instead of your screen
If your meeting is being recorded make participants aware

Announce you will be starting the Zoom recording when most or all of your participants are in the meeting
Only a host can record a meeting (or grant the ability for a participant to record), however, be aware that others can record their screen using a cell phone or screen capture software on their computer, for example
Other information:
You have an option to limit attendance at your Zoom meeting to only authenticated users as long as those attendees are joining your meeting via a computer.
If you choose this option, those attendees will need to authenticate with their Western email address to join your meeting.  If authentication is required for the meeting and these attendees don't sign in, they will not be able to get into the session until they sign in. They will need an account to sign in.
Attendees joining by phone are not required to authenticate but are required to enter the specific Meeting ID for your meeting.
To require attendees to sign in, when scheduling the meeting, under Meeting Options, select Only Authenticated Users Can Join
To ensure that only participants using a Western email address can enter your session, ensure that "Western Accounts Only" is selected.  Please note, this includes both @uwo.ca and @ivey.ca addresses by default. There is another option called "Sign in to Zoom" - This option allows any users to join the meeting or webinar, as long as they are signed into their Zoom account.


If the 'Western accounts only' setting is on and a participant tries to join the meeting or webinar and is not logged into Zoom using a Western email address, they will see "This meeting is for authorized participants only.  Click 'Sign in to Join' to sign into Zoom with an email address authorized for joining this meeting."
Participants need to select 'Sign In with SSO' option which will prompt for the Western UserID and Password.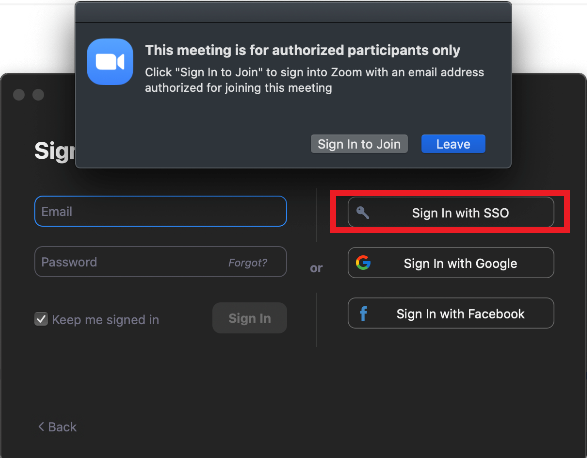 If they are logged in with the wrong email domain they will see "This meeting is for authorized attendees only.  Click 'Switch Accounts to Join' to sign into Zoom with an email address authorized for joining this meeting."
Participants need to select 'Sign In with SSO' option which will prompt for the Western UserID and Password.

For even better security, have Zoom automatically generate your meeting ID (so you don't have to use your Personal Meeting ID) when creating a new meeting
Do not publicly post  your meeting id on social media or the web
Enable a Waiting Room to control who can enter your meeting
Set your meeting so that participants can't join your session before the host by unchecking the option Enable Join Before Host 
Prevent participants from screen sharing – Sharing your screen
Prevent participants from private chatting – In-Meeting chat
Lock the meeting to prevent anyone new from joining

To lock: When you are in a meeting, as host, click on the Security icon and select Lock Meeting

When you lock the meeting, no new participants can join, even if they have the meeting ID and password.

Tip: Confirm everyone who is supposed to be in the meeting has joined before locking!

Expel a Participant: If an unwanted participant has jointed your meeting, you can remove them from the session:

When you're in the meeting, click Participants at the bottom of your Zoom window. In the participants pop-up box, you can mouse over a participant's name, and several options will appear, including Remove. Click that to kick a participant out of the meeting

Attendee On-Hold: if you need a private moment, you can put attendees on-hold. The attendee's video and audio connections will be disabled momentarily.

Click on the attendee's video thumbnail and select Start Attendee On-Hold to activate this feature

Suspend participant activity: New option in the Security panel to immediately suspend all participant activities, which will mute all video and audio, stop screen sharing, end all breakout rooms, and pause recording.
Instructions to Manage participants
---
Published on  and maintained in Cascade.