Bring Your Own Device
Presenters who would like to connect their own equipment to support their presentation or event needs may do so in General University teaching and presentation spaces that feature permanently installed audio-visual systems which are managed by the Classroom Technology Group.
Wireless and wired a/v connectivity is accommodated in many of these spaces. Presenters are responsible to provide their own device(s), and any additional equipment they may wish to use.
Note: Certain limitations can apply regarding connectivity, and interoperability of external devices with respect to the audio-visual system.
The Classroom Technology Group recommends that you plan ahead to connect, and test the equipment you would like to use in the venue where your presentation will occur - well in advance of your event.
This is the best pro-active measure to help ensure your equipment can successfully be interfaced and perform as expected with the installed a/v technology. (Resolving "BYOD" performance issues is often not feasible immediately prior to, or during one's presentation.)
If you are looking to use your own technology in a General University teaching, or presentation space and you have questions regarding next steps please reach out through Service Desk
Wireless Display Connectivity
For wireless display connections, Solstice is the supported service for presentation and collaboration needs. Solstice is featured in permanently installed audio-visual systems that are managed by the Classroom Technology Group.
The ubiquity of Solstice helps to ensure that presenters can connect their devices to a/v systems without depending on specific cables or adapters.
For more information about Solstice and how to use this service, please visit: Solstice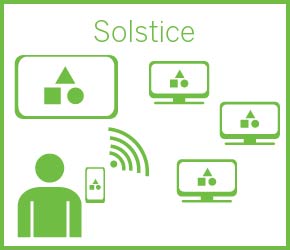 Hardwired Display Connectivity
User-facing HDMI and/or VGA input jacks are typically found at the presenter controls in CTG-managed audio-visual systems.
Not all CTG-managed a/v systems will support both formats. We recommend that you identify the connectivity options offered in your specific classroom(s), and confirm this agrees with the physical connector found on the device that you intend to use.
Note: CTG maintains (1) analog VGA cable for a/v systems that feature a user-facing VGA input jack. HDMI cables are not supplied by CTG. Presenters must provide any additional cables they might require to connect their equipment.
For additional information, please visit: Cables and Adapters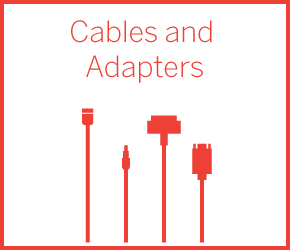 ---
Published on  and maintained in Cascade.